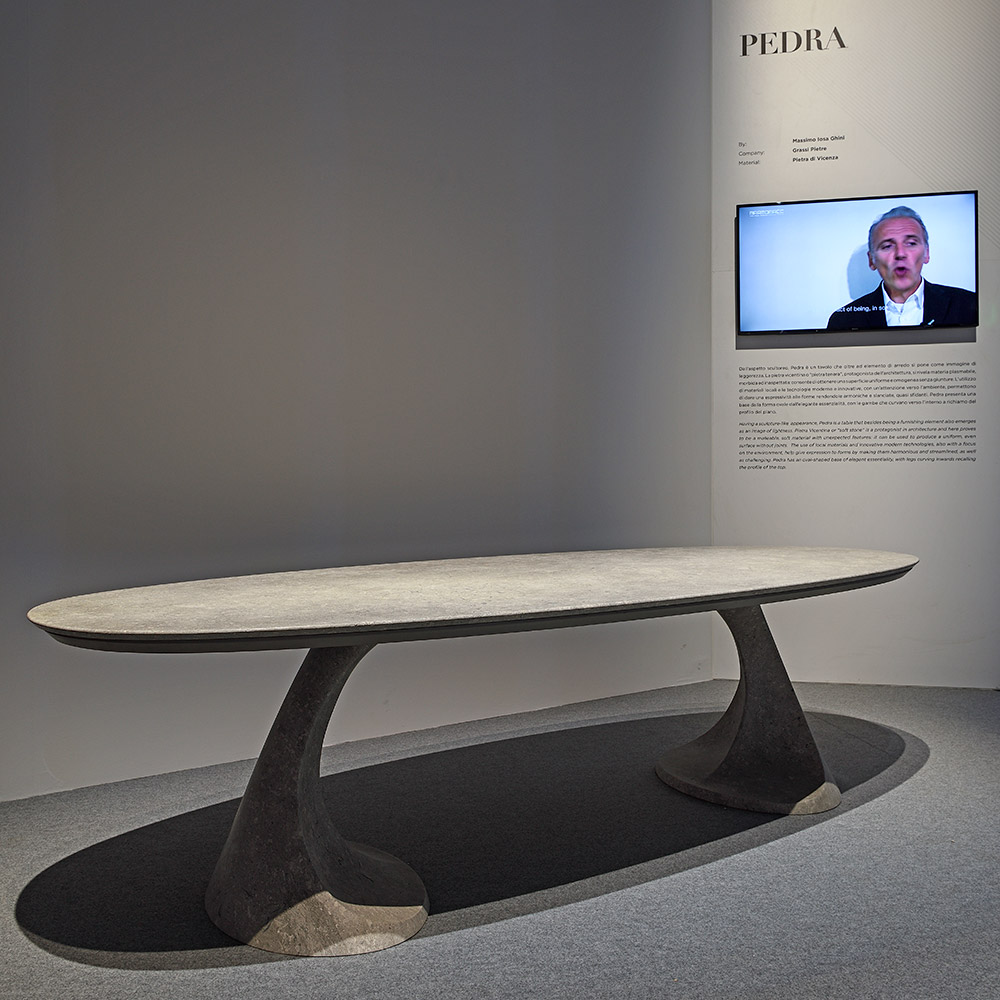 The Bologna architect lent his creativity to LDM to design a table with futuristic well-balanced lines , able to show what innovative technology can achieve . Pedra was a focal point at the Italian Stone Theatre at Marmomacc 2016
"The conjunction between the world of the furnishing and the world of stone definitely happen in the outdoor, where there is a critical need for stone material since in exterior stone is twice a natural element: consonant in its presence and perfect is its consistency". So architect Massimo Iosa Ghini sums up the reasons of the inspiration that led to design Pedra, a table in Pietra di Vicenza , showed exclusively at The Italian Stone Theatre during the 51st edition of Marmomacc.
"Stone materials – continues Iosa Ghini – are living a new youth, they are certainly tied to the tradition and, in particular, to the history of our country. But also because, thanks to the possibilities offered by new technologies, we can emphasize the forms and we can work very precisely on the details, a bit 'as if we were all sculptors'.
Francesco Grassi, CEO of Grassi Pietre , owner of LDM brand , describes with emotion and pride the fruit of the collaboration with the Bologna architect, "a table, focal center of home furnishing , with harmonic and futuristic lines, with a top that seems suspended between two arcs of great stylistic refinement. "
"The one with Massimo Iosa Ghini – continues Francesco Grassi- after the recent and great relationship with Aires Mateus and Cino Zucchi, even more enriches the long list of collaborations with architects and designers of international prestige of our realities. Pedra dramatically enhances the properties of Vicenza Stone, its fascinating materiality, perfectly joined to its simple elegance and great consistency. "
"Working with the Palladian stone was exciting," concludes Massimo Iosa Ghini. "The flexibility and robustness that acquires over time led me to think of strong and a bit 'challenging shapes which, thanks to LDM and Grassi Pietre professionalism and service, led to the creation of an extremely balanced and harmonious , usable and functional object. "